Roving Reporter | "The Bird Lady of Corpus Christi" by Justin Butts of Four String Farm
Justin talking before the Audubon Classroom at the South
Texas Botanical Gardens
Last month, Kayla and I attended a meeting of the
Coastal Bend Audubon Society
, and I led a discussion about bees.
The Audubon Society graciously welcomed me and Kayla, and even baby Emma, who was exactly a month old. They are such a wonderful and interesting group, I wanted to share information about their next meeting, this Tuesday, March 4, at 7:00pm, at the Botanical Gardens of South Texas.
At this meeting, Cord Eversol, of Texas A&M--Kingsville, will be talking about alligators. All are welcome for this presentation, stop by if you are able.
Africanization of Bees
During our presentation, one of the topics we discussed was the Africanization of bees. In the 1980's, an African bee colony was surreptitiously introduced to South America, and these hearty bees began to replace the European colonies of bees going north all the way to Texas, and now throughout the United States. It is possible that the honeybee population of North America will eventually become Africanized.
Bee with Head in Broccoli Flower
Bees in America before European Discovery
I noted in the presentation that the Pilgrims brought several colonies of European bees with them on the Mayflower. They did not know whether bees existed in the New World, so they brought their own to make sure their plants were pollinated, and to harvest their own honey. Spanish Conquistadores likewise brought European honeybees to Mexico and South America, and Portuguese settlers to Brazil. These European bees spread throughout both continents. (Terry Carter, our leading beekeeper in Rockport, and maker of Rockport Local Honey, shared a great deal of excellent information with me about bees for the presentation.)
The question was asked during the presentation whether honeybees existed in America prior to European settlement. I did not know the answer, but have since found the following information in Notes on the State of Virginia by Thomas Jefferson:
The honey-bee is not a native of our continent. Marcgrave indeed mentions a species of honey-bee in Brasil. But this has no sting, and is therefore different from the one we have, which resembles perfectly that of Europe. The Indians concur with us in the tradition that it was brought from Europe; but when, and by whom, we know not. [Jefferson was not familiar with the cargo manifest of the Mayflower, because those notes were still kept in England, and England and America were at war at the time of his writing.] The bees have extended themselves into the country, a little in advance of the white settlers. The Indians therefore call them the white man's fly, and consider their approach as indicating the approach of the settlement of the whites.
In modern times, bees are the chief pollinators of plants. Before European settlement, other pollinators must have performed the mighty work of perpetuating plant life in America. If anyone knows which were the chief pollinators before the arrival of Europeans, I would love any details you can share.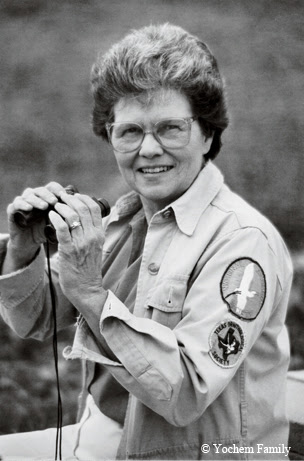 Phyllis Yochem (photo courtesy Texas Parks and Wildlife Magazine, copyrighted Yochem Family)
The Bird Lady of Corpus Christi
At the Audubon Society meeting, I had the privilidge of meeting Phyllis Yochem, "The Bird Lady of Corpus Christi". Phyllis writes a birding column in the Corpus Christi Caller-Times, and she is the longest-running birding reporter still working in Texas.
It is worth going to an Audubon Society meeting just to meet this wonderful person. It was such a pleasure visiting with her and discovering her passion for birds and the wildlife of South Texas.
You can read Phyllis' column at
Corpus Christi Caller-Times
, and there is a good article about Phyllis in the
Texas Parks and Wildlife Magazine
.
---
Justin Butts is a local farmer and business owner of Four String Farm in Rockport.